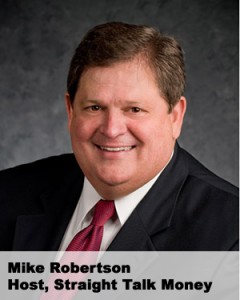 Mike Robertson is the late CEO and Chief Investment Officer of Robertson Wealth Management, LLC, and host of "Straight Talk Money". Mike was in the financial industry for over 40 years and specialized in creating tax-efficient portfolios and retirement distribution strategies, with an emphasis on controlling risk.
Mike was quoted in such publications as the Houston Chronicle, Money Magazine, Business Week, New York Times, Research Magazine and On Wall Street. He was a member of numerous boards including the Harry S. Dent Foundation Advisory Board, Ed Slott Advisory Board, First Allied Securities Chairman Executive Counsel and Bill Good Marketing Board of Directors. Mike was named as one of the top 400 advisors in the country by Financial Times.
Mike hosted "Straight Talk Money" weekdays from 8am to 9am on Business 1110AM/KTEK in Houston, 1230 AM KERV in Kerrville and KLZ 560AM in Denver. The show also airs on gabbusiness.com, a global internet radio network. The focus of the show is exactly what the name implies, "Straight Talk" about investing and finances and "Straight Answers" to listener questions.